WHY K. Y.?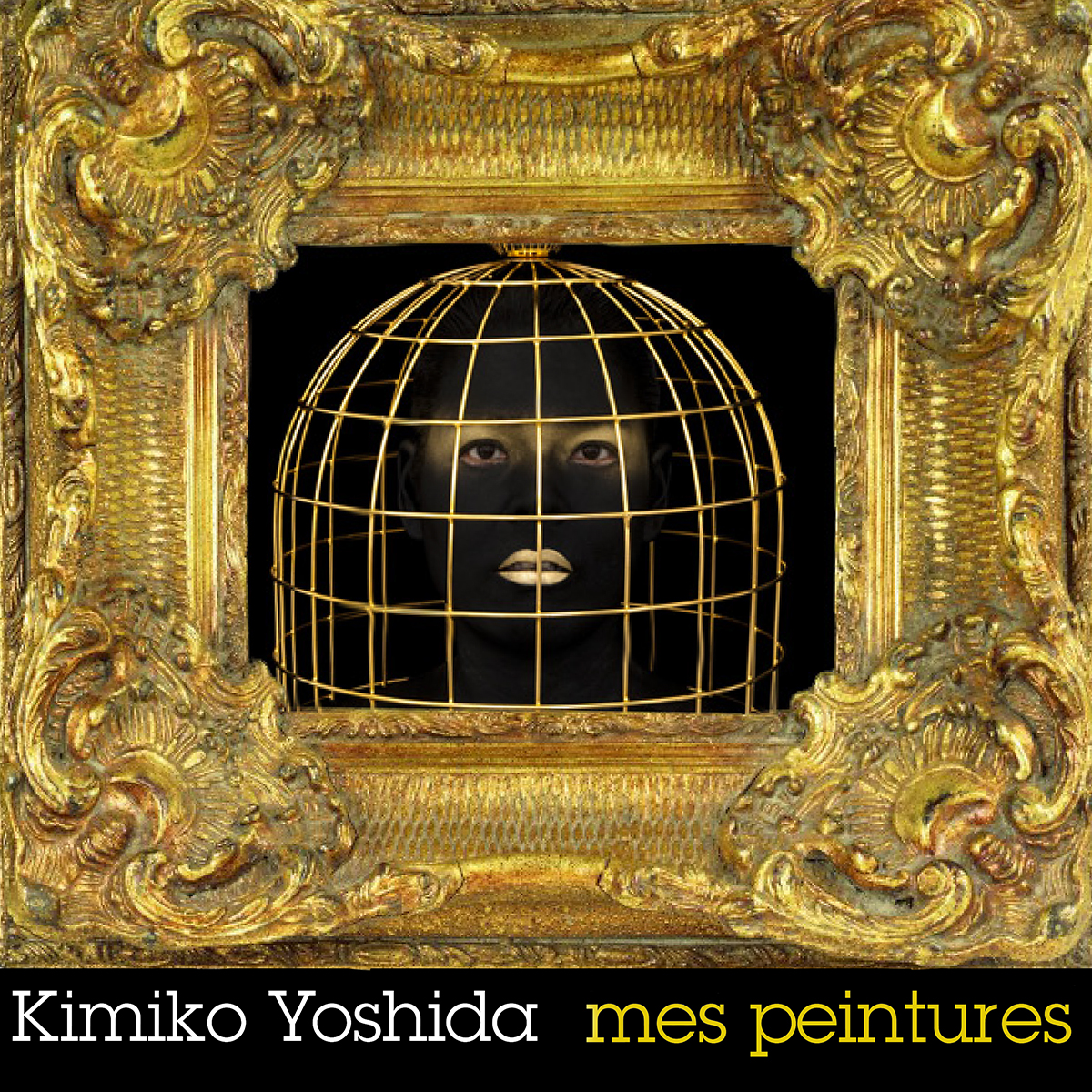 The Yoshida Corridor.
This could be another title for Kimiko Yoshida's endeavour, My Painting. Self-portrait. It refers to the Vasari Corridor, a secret passage built in 1564 by Giorgio Vasari at the request of Cosimo I de' Medici, Grand Duke of Tuscany, who wanted to connect two of his palaces: Palazzo Vecchio and Palazzo Pitti. Most tourists ignore this skywalk of over one kilometre long that cuts through the city centre of Florence. Yet it is an astonishing walk to take, that joins Lungarno and Oltrarno – repectively the right and left banks of the city. Starting from Palazzo Vecchio, on the piazza della Signoria, it passes through the Uffizi Gallery (where you can reach it through an armoured door), crosses the Arno river above the Ponte Vecchio, overlooks the nave of the beautiful Church of Santa Felicità and, after passing through several buildings, ends on a double exit into Palazzo Pitti and towards the Boboli Gardens. The Corridor allowed the Duke to pass directly from one palace to the other, safely crossing the city, whilst giving him the opportunity to observe his subjects through small barred windows, watching the crowd without being seen.
The story of its construction is not why I came up with the idea to relate the Vasari Corridor and Kimiko Yoshida's series of images, but it's fate. For, since the 17th century, this odd corridor has been used to exhibit a superb collection of self-portraits paintings. This exceptional collection started with an initial donation by Cardinal Leopoldo de' Medici – Cosimo II's youngest son, a famed scholar who founded the Accademia Platonica and an important art collector – and grew larger over time, until today. It contains self-portraits by Andrea del Sarto, Domenico Beccafumi, Gian Lorenzo Bernini, Annibale Carracci, Guido Reni, Giorgio Vasari himself, Salvator Rosa, but also Rubens, Velázquez, Rembrandt, Canova, Corot, Ingres, Delacroix, Ensor, and many more. Chagall, who aspired to joining this ensemble, insisted on donating a self-portrait, a blue painting of his life, picturing his fiancée Bella and the golden rooster that symbolizes his native Russia.
Such an astonishing collection of artists' self-portraits, arranged along this long Corridor, can, after many disasters and incidents – including being bombed by the mafia in 1993 – still be visited on request. But one of its characteristics strikes me in particular: The Corridoio of artists' self-portraits secretly passes through the Uffizi Gallery. This building designed by Vasari was originally built to host the administrative offices of Cosimo de' Medici (uffizi is Italian for offices). It became an art gallery at the end of the 16th century, and has now become a famous museum, housing one of the oldest and richest collections of paintings in the world.
A PASSAGEWAY OF CONCEPTS
A gallery of self-portraits of artists passing through a gallery of old masterpieces… This comparison between the Vasari Corridor and Kimiko Yoshida's series was more than just tempting. It was almost mandatory. I could, in fact, imagine that the artist had the Corridoio in mind when she developed her My Painting. Self-portrait project, which is to match every Old Masters portrait with a self-portrait by K.Y., having them gaze at each other. Beyond the general idea of confronting Old Masters paintings and artists' self-portraits, I could also add that some of the works of reference summoned by Kimiko Yoshida come directly from the Uffizi Gallery – such as Titian's Mary Magdalene or Caravaggio's Bacchus. Besides, the subjects of certain paintings from the Vasari Corridor have also inspired K.Y.'s series, be it the character of Judith, as painted by Artemisia Gentileschi, or of David, whose Guido Reni's version shown in the Corridoio instantly brings to mind Cellini's Perseus, which stands in the Loggia dei Lanzi that borders Florence's piazza della Signoria. In this sculpture, Benvenuto Cellini portrays the mythological hero triumphantly brandishing Medusa's head, also called the Gorgoneion, which was painted in 1598 by Caravaggio on a ceremonial wooden shield displayed just across the piazza in the Uffizi Gallery, and whose frightful mask Kimiko Yoshida herself has worn.
A strange collection of coincidences indeed.
Old Masters portraits and self-portraits by the artist: Which of the two looks like the other? Who watches whom? In these images were the artist seems to be diving and fading into the background, who is who? These inevitable questions suggest that My Painting. Self-Portrait is more than simply Yoshida's intimate Corridor, open to the wandering public through a book. They suggest that one question inhabits, shakes and brings to life this serial work in its images beyond the images. There is a vibrant, thorough and radical questioning on identity in My Painting. Self-Portrait. The stroll along this gallery of portraits is not just punctuated by questions about the identity of the characters that are represented, but the progression slowly gains the dimension of a questioning of identity itself. Each time we look at a face, we don't just ask ourselves: Who is it? Instead, while we contemplate the ever-changing figure of the artist and her never-ending metamorphoses, a sharp question comes to mind, a question that is anchored in the heart of our times: In the end, what is identity? Yoshida's Corridoio is a pathway of meditation, a passageway of concepts.
PLURAL IMAGES OF THE SELF
Instead of classically talking about self-portraits to describe these photographs in which she always appears, although her figure is sometimes difficult to recognise, Kimiko Yoshida calls them My Painting. What does this mean exactly? What does it refer to? Is it an allusion to the photographic self-portraits or to the Old Masters paintings they mirror? Or to both? And whom does the possessive pronoun stand for? Once established that the possessive cannot stand for legal property, we have to wonder who says my? Who talks? From painting to painting, we enter a zone of uncertainty. This set of mostly disparate images conveys what we could call a feeling of limited identity. A subject is talking, saying my. One single subject is talking about herself by talking about the plurality of her images. From this, doubt arises regarding identity. Identity could simply be the game of an endlessly changing and limitless identification. But of whom with whom? Or of what with whom? Or of whom with what?
The image of self is necessarily multiple. To say " my image" is to turn the pages of a big picture book, which generally starts with photos of a crying baby in his cot, and ends with others showing a strong lad in his diving gear, not to mention those of his disco hair period. And all of his different images are him. Collectively, they speak of him. They grace the long corridor of the Me. But the problem raised by K.Y.'s work is not just about image. Of course, My Picture. Self-Portrait raises issues that have to do with imagery. For instance, it delves into the relations between photography and painting, but also addresses identity and portrait. The notion of portrait is understood here in its broadest sense, which is not restricted to the image, and can refer to both the visual and the verbal depiction of a person. The same applies to the notion of painting. In fact, according to lexicographers, the first recorded use of the word "painting" (peinture) in the French language, dating back to the 12th century, was in the metaphorical sense and referred to the description of a person with words. That you could paint someone with words just as you can paint him with paint and brushes does alter the line that divides image and language. It does not quite dissolve it, but it shifts it, it makes it more complex. This dividing line makes a knot, opening onto an imaginary dimension of language itself. Speech shows us something to see. It also has the power of showing. Poetry never stops to demonstrate this ability. We have known this for long enough, at least since Horace and his ut pictura poesis. In passing, we could emit the idea that the ut pictura poesis – which establishes a comparison between poetry and painting, so that poetry could be similar to painting – seriously challenges the notion of unity, and of the specific identity of each art form. Merrily casting confusion over the relation between painting and photography, Kimiko Yoshida seriously revives the question of the identity of the arts.
PAINTING THE BEING AND THE NON-BEING
In this tempestuous flow of questions regarding identity, My Painting. Self-portrait rushes even more interrogations.
My Painting. Self-portrait. One hesitates, because this title seems to indicate both the collection of Old Masters paintings that inhabit this book – a kind of imaginary museum of the artist, perhaps, with chosen and loved works of art – and the series of photographical self-portraits that show K.Y. in a frontal pose, dressed up in diverse and peculiar garments. This title is ambiguous. Over the course of the pages, we are progressively convinced that this ambiguity is deliberate, calculated and thoughtful. I believe it to be profound, acute and fruitful, for it raises an important issue for the art world and beyond, for the subjects of our times.
This ambiguity gives rise to an unexpected way of seeing the identity of portraits. Although it raises more questions about identity, we have to admit that the set of photographs of herself made by K.Y. constitutes the gallery of her portraits. But with her clothes, her costumes, her make-up and her sometimes improbable disguises, always reminiscent of an Old Master painting, she suggests that the old portraits that she exhibits, and whose appearance she assumes, somehow also paint her portrait. By representing a painted figure with just a few features, she suggests that the old painting yields K.Y.'s identity, or at least part of it. These paintings depict her. From Cranach to Goya, from Clouet to van der Weyden, from Titian to Delacroix, Old Masters paintings show something of Kimiko Yoshida. They are all paintings of her, and they also are her paintings, each and all of them.
And so, page after page, identity does not appear as a composite image that would subsequently form and deform itself, like the shimmering image of a kaleidoscope. Instead of growing richer, deconstructing and reconstructing itself page after page, the identity of the artist seems to be decomposing, spreading and scattering itself, leaving nothing but a doubt on the scarceness of identity. What this collection of images shows us is some form of disappearance of the artist, which, by simultaneously refracting and diffracting itself in all the world's images, disseminates and dissolves itself in the indefinite series of portraits that came before.
At the same time, we cannot conclude that the artist disappears, in the sense of an absolute asceticism or evaporation, thus reaching the perfect Void. This series is more like a becoming-constellation of the artist. K.Y. lies in all its images. She is all, in all her paintings. Refracted and diffracted, each of these paintings both bears and removes a part of her being. K.Y. does not display a series of portraits where she recognizes herself. She has collected a series of paintings that concern her, namely pictures that carry a piece of her, that make her happen. Every image carries part of Kimiko Yoshida's riddle. Together, they form the portrait of both the being and the non-being of the artist K.Y.
WHO IS THE MODEL?
Here, we are no longer in the context of a classical notion of the portrait, according to which it is supposed to look more or less like its model. We walk into a new space of representation, where portrait is shaped within the nebula of all the possible dissimilarities. In this country-beyond-the-looking-glass, brand new laws apply, such as the law of identity without resemblance. It appears to be the kingdom of a rainbow identity, of an iridescent image that is refracted, reflected and disseminated through the crystal of Old Masters pictures. Going from one image to the other, K.Y. paints the portrait of herself, without looking like herself. Instead of being built up, her image gets scattered and fragments into the diversity of images. As you turn the pages, a prismatic, or ghostlike identity of K.Y. emerges.
Nevertheless, K.Y. doesn't shake her identity off, as an actor would when starting a new role. She doesn't cast her image off to embrace that of the painted figures. She doesn't wear make up and costumes to become a living picture in a parade of grand or mythical figures of the past. Instead, I would argue that these paintings are the ones painting her, making her picture. First assault upon the portrait: In K.Y.'s work, the portrait is not supposed to look like the model. On the contrary, the model is the one that is presumed to look like the portrait, like all of its portraits. Therefore, the notion of model itself wavers: Who is the model? This question brings us to Japan. For, as we know, K.Y. comes from a culture in which regularly, great temples such as the Ise Shinto Shrine, whether or not damaged, are completely rebuilt with identical – but new – materials. Notions of heritage, copy and original are therefore more than merely problematic. They are simply put on hold.
In My Portraits, I wouldn't apprehend the model K.Y. as a model. Instead, I would describe the mechanism at work in her creations as such: K.Y. is the subject her portraits presume.
UNDOING THE PRIVILEGE OF THE HUMAN FIGURE
Now let us wonder: Once acknowledged the idea of a plural identity – of a disparate series of identities –, whom does K.Y. look like, every time she poses? The difficulty lies in the fact that the question arising before some of these images would rather be: What does K.Y. look like? And here, we reach the site of the second assault. For K.Y. does not just dress up and complies with the image of characters and people represented, bodies and human forms. Sometimes, she turns into an object; she becomes an element of the background, a mere ornament. The artist represents herself as a detail. K.Y. takes something off elected paintings, off paintings she has looked at and that look at her. She assumes the traits of a trait. And all the details are worth the same. Of course one could see Yoshida's Corridor, the gallery of paintings of herself that she puts on display, as the indefinite collection of herself. If we turn the pages of this book too briskly, moving from one painting to the next, from one photograph to the next, scrolling this series of portraits may remind us of the parade in Björk's song, Army of Me. But we mustn't forget to notice and to realize something crucial: That the artist doesn't simply split herself into dozens of characters, whose finery or aspect she takes on, but scatters herself as an animal, a monster, an ornament, a piece of scenery, a simple object or even a pure color, as often as she changes into a man or a woman. In Charles Perrault's Donkeyskin, the princess demands to have a dress made in the color of weather, or the moon. In My Painting. Self-portait, K.Y. goes as far as to dress simply with the shadow of a reflection. The revolution of values follows the revolution of forms. What is accessory becomes essential and what is essential becomes accessory. The order of images and the hierarchy of forms are abolished. She is successively a woman, a man, an animal, a monster, an object, a light, a color… In this parade of identities, the artist K.Y. comes out of her body, out of the limits of her form. The image of humanity is blown up. But, in these times of deliberate attacks against the human figure, it is important to say that K.Y. accomplishes all this without hurting the body, hers or the others'. She does this in a very gentle and respectful manner. I would say she does it with love. One photograph displays Kimiko Yoshida's becoming-turban, or her becoming-leaf, another one features her becoming-Medusa or even her becoming-shadow. The human figure looses its prestige. Over the course of the pages, it gradually disposes of what – in my eyes – gives it an absolute privilege over things. Here, things and beings are captured through what makes them similar: The image. Image of beings and images of things, all are equal within the image. 
 THE PHARMAKON'S OXYMORON
To make sense out of this series of features and pictures, to bring out the intimate logic or her work, I would say that K.Y. does not wear clothes or accessories, but paint. K.Y. doesn't look like anything. She doesn't look like herself. She paints herself. Being or thing, there she is, dressed with painting. In that sense, K.Y. is not dressed up or costumed. She is painted. She doesn't reflect herself, nor does she identify herself. She paints herself. By turning into Saint George or into a chandelier, by becoming a heroic portrait or a still life, she paints herself with paintings, with all the paintings in the world. This fully justifies the title My Painting.
I would even say that K.Y. paints herself with the colors of paintings. That is to say, she adds something more to the characters, figures, objects, elements of scenery, shadows or details that she puts on. She adds make-up. Here, make-up is at the very least equal to garments or accessories. With make-up, painting takes shape. Greeks used the word pharmakon to describe color. This word carried a dual meaning, describing both medicine and poison as well as painting and make-up. Derrida commented on this ambivalent concept. Plato had indeed favored its ambivalence. To him, pharmakon being an oxymoron, its double meaning of painting and make-up (it also referred to Egyptian make-up) underlined the negative connotation of seduction associated with color in general. Assimilation could only be seen as a flaw of art. Painting was nothing more than make-up, a lie, an illusion made-up to seduce and to deceive, much like a woman. Plato saw painting not as an art, but as a trick. K.Y. takes some kind of element off every painting, whether figurative or not, which she seizes like a trick and wraps around her, making My Painting. Self-portrait a true feast of tricks. We might as well say that, opposing Plato's view, the ambivalence of the pharmakon is turned by K.Y. into praise of make-up. Each photograph made by Kimiko Yoshida proclaims make-up as painting of the body, raising it to the dignity of the work of art. Ut pictura pharmakon.
With its critical and anti-Platonist echo and despite the fact that K.Y. can sometimes be unrecognizable in her images, her series as such show something of a pure feminine identity. The very game of the pharmakon, which is made of arts and tricks and where the artist both exposes and veils herself by changing into a painting, is not a pure parade. But K.Y., mastering the masquerade manages to blow up and eventually expose the very truth of the image; the truth that simultaneously shows and veils. It should come as no surprise that this philosophical gesture, this true praise of make-up is acted out by a woman. In this assertion of the veiling/unveiling power of painting, with which she makes herself a cloth of glory, K.Y. is a pharmakon-woman. And through her praise of make-up, the praise of painting sounds like a praise of femininity, and even like the assertion that Painting is Female.
THE PROCREATIVE POWER OF THE PAINTING
In this aspect, although the idea of comparing her work with Cindy Sherman's is inevitable, if only because of the use of make-up, it appears that Kimiko Yoshida's work in My Painting. Self-portrait goes in an opposite direction than Sherman's History Portraits/Old Masters (1988-1990). While Cindy Sherman's photographs distance themselves from painting, into a critic dimension of the representation of women, K.Y. seems to throw herself into the flow of painting and lets herself be carried away with almost palpable pleasure. So much so, that she plays her self in a becoming-Painting. From here, surges an idea, which is as alluring as it is paradoxical. Ever since Plato, there are nine Muses, nine women acting as intermediaries between artists and the gods. And although Lyric Poetry or Dance have one, and Poetry even has more than one – between Calliope and Melpomene –, Painting, oddly, doesn't have any. Thus, based on the praise of the Woman-Painting that is My Painting. Self-portrait, I would easily see K.Y. emerge as the Muse of Painting. The paradox being that she would come to be the Muse of Painting by making photographs. But maybe K.Y. only pays the tribute of photography to painting, as a daughter would pay tribute to her mother.
Dressed with paintings, her face and body made-up… We could say that K.Y. has immersed herself in an immense bath of colors and that she has plunged into paint. In that sense, My Painting. Self-portrait would be the exact opposite of Yves Klein's Anthropométries. While Klein spread painting over women's bodies to turn them into paintbrushes and paint with them, K.Y. is instead painted by the paintings, painted by painting. My Painting is the story of an artist that has emerged from paintings, that was generated by art. Like Aphrodite rises from the foam, Kimiko Yoshida rises from painting. She is Yoshidite. Her body emerges page after page from a changing sea of colors. The succession of paintings rolls likes waves of shadow and light. K.Y. floats on a shimmering sea, carried away and brought back by the waves of painting. 
We must realize what the wording of such a birth act brings along: A fundamental ontological inversion in the aesthetic thought of the artist's being. From My Painting. Self-portrait comes this idea that the artist-creator could in fact be created or generated by his own art. An artist born from his art. By what mystery? By what means? The Church of the East has long maintained the thesis that Jesus' conception had occurred through Mary's ear, when she received the word of God. After all, it seems less odd to believe that an artist might be conceived through gaze. The artist's gaze on painting as much the gaze of painting itself. By confronting Old Masters paintings and self-portraits of the living artist, My Painting. Self-portrait tells the story of a birth. The idea that art has a creative strength, that it has the power to generate the visible world and the beings that see, eventually seems self-evident.
BECOMING A BOOK BEING
Taking her place in the long theory of Painting, in the procession, the great gallery that contains all the paintings in the world, K.Y. is born from the history of Painting that she displays, right under our eyes, at each page of her book. And so when we shall visit the Hermitage Museum in Saint Petersburg, the London National Gallery or the Kunsthistorisches Museum in Vienna – like she has done when she was preparing this book – we will be collecting as many drops of the semen that produced K.Y. And, the other way round, K.Y.'s painted body somehow becomes the Gallery where Painting is being painted. The entire history of Painting is written on the skin of an artist. Thus, her body becomes a white surface, a page, a book. K. Y. is an illustrated book, in the words of Marcel Proust. One could argue that what matters to Kimiko Yoshida is the work she accomplishes in her photographs of herself. It is to turn her body into a surface for writing and exhibiting, to become a book being or a picture rail. Forgoing the rather negative connotation it carries today, this brings us to the Japanese tradition of irezumi, tattoos that sometimes cover the entire body. But again, we must recall the absolute limit drawn by the artist, that she does not do anything that might affect the body in its flesh, in a permanent or painful way. Her project to paint herself implies that she treats her body like a pure surface onto which painting shall be projected. In that sense, the idea of a book is part of the very concept of this work, so that the book that we are holding in our hands, My Painting. Self-portrait is, in a way, Kimiko Yoshida's body-book.
ART GAZES AT ME AND TALKS ABOUT ME
We can take one more step. By getting dressed the way she does, with the colors of painting, K.Y. does not disguise herself, she doesn't wear make up in order to look like the persons or even the objects depicted. She takes the gazes of paintings, which is what compels us to look at them, and she wears them. Commenting on Merleau-Ponty's evocation of Cézanne's gesture of dropping little blues, little whites, little browns on the canvas, Lacan saw the act of painting as the " laying down of the gaze" [Lacan, J., The Four Fundamental Concepts of Psychoanalysis, trans. Sheridan, A., New York and London: W.W. Norton & Company, 1998, p. 101]. K.Y.'s artistic gesture could therefore be the next gesture, the gesture of a forager. She collects the gazes laid down by paintings to wear them. K.Y. is a collection of gazes. In that sense, she is exactly her book My Painting. Self-portrait. "Born from painting" really means that the artist takes the gazes off painting to become a gaze herself. Gazing at all the world's paintings, being gazed at by all the world's paintings and becoming a gaze herself. K.Y. creates herself as a being of painting, like in the Myth of Wu Tao-Tzu – this Chinese painter of the Tang Dynasty (around the 8th century), who is said to have walked into one of his landscapes and vanished – K.Y. has walked into Painting, into the history of Painting.
Nevertheless, must we say that she has vanished into it? K.Y.'s art is an art of diffraction and dispersion, not an art of obliteration but of resonance. It is an art of the echo. What is both very strong and beautiful, but also crazy, is not that K.Y. embraces all of Painting. It is that she accomplishes – and makes us realize – something that applies to anyone: That in these worlds were it attracts and projects us, all art talks about us, about every single one of us. To think that art talks about me, that in the moment when I gaze at a painting, it gazes back, could be delusional or hallucinatory – it is merely Lacanian. In the moment when I gaze at it and loose myself in it, all painting gazes at me. Painting paints me.
ALL PAINTERS PAINT ME
With the Corridoio Vasariano, another Florentine reference arises. At the end of the Quattrocento, a few years before Vasari, there was a popular principle in Florence: Ogni dipintore dipinge se, every painter paints himself. The original quote was attributed to Brunelleschi. This idea, such as summarised by Daniel Arasse in Le Sujet dans le tableau [(not translated into English), Paris: Flammarion, 1997], is that a work of art inescapably resembles its author. You can « recognize » him in it. Savonarola commented on it: " And one says that every painter paints himself. He does not indeed paint himself as a man, because he produces images of lions, horses, men and women (…) but he paints himself as a painter, that is according to his concept" [translation by F. Zöllner]. Over the Quattrocento, Marsilio Ficino offered a philosophical formulation of this principle that anticipates Buffon's famous notion of style, enunciated in the 18th century: "All the works of art which pertain to vision or hearing proclaim the whole of the artist's mind, writes Ficino. In paintings and buildings, the wisdom and skill of the artist shines forth. Moreover we can see in them the attitude and the image, as it were, of his mind; for in these works, the mind expresses and reflects itself not otherwise than a mirror reflects the face of a man who looks into it" [translation by E.H. Gombrich].
These quotes mark the moment of the realization that an artist's personality was reflected in his work. Late Quattrocento Florence became the place and time when "the artist's personality" became an object of Art history. People began trying to sense the artist "behind" the work of art, which was seen as a sign, a mirror or a symptom of its maker. This inaugural and founding moment could be described as Brunelleschian. It could also be called a Buffonian moment, a Sainte-Beuvian moment, or even a Freudian moment. Once the last twists and turns of modern thought regarding artistic literature in the late 20th century – which had more to do with texts than psychology – had passed, and even though contemporary critics continue to pay careful consideration to the letter and the work, the idea of a connexion between intimate life and creation is now generally accepted. We are beyond the confrontation between Proust and Sainte-Beuve. Very well. The problem is that the Brunelleschian-Buffonian-& co principle seriously stumbles upon K.Y.
Ogni dipintore dipinge se? It is manifest that My Painting. Self-portrait appears to obey to a very different principle, which could be worded as follows: Tutti dipintore dipingono me, every painter paints me.
IN SEARCH OF PAINTING'S LOST OBJECT
All of a sudden, we find ourselves projected into the midst of another modernity, a new modernity. After Brunelleschi, Buffon, Sainte-Beuve and Freud, a first modernity was born in the 20th century with Proust. Underneath peaceful appearances, In Search of Lost Time revealed itself to be a profoundly subversive work. This manifested itself in the Proustian art of " pastiche". His pastiches, or imitations, completely revolutionised the notion of style. The style is the man himself, wrote Buffon. But who is the man that paints himself in the pages of In Search of Lost Time written in the style of Flaubert or the Goncourt brothers? The process of pastiche in itself is ancient. In his Characters (1688), La Bruyère had already inserted a paragraph, which was a perfect imitation of Montaigne's style. But Proust, a writer with a unique style, an impossible style to imitate, who painted it like no other, introduced a major modern question. With pastiche, and beyond what it could mean to him as an act of literary critique, Proust, unseemingly so, was subverting the author's relation to his work. Thus opening a modern era of literature that we could call In Search of Lost Me. If only with the invention of the Readymade, which, in 1913, inaugurated the art of the 20th century, all of modern Art history would also be highly influenced by this question of the subversion of style. Between Pastiches et Mélanges and Bicycle Wheel, Proust and Duchamp emerged as the two great bombers, who forced open the doors of the 20th century.
Following this logic, K.Y. first appears to be quite Proustian, substituting the Buffonian formula – the style is the man himself – with another one that could be: The style is the Other. Of course, we could choose to see this work through the prism of a childish view of art, and see K.Y.'s "plunge" into the history of Painting as a journey in search of the father, or of a mother. Let's say of an identity. But it's not about that. K.Y. is less in search of a father than of a loss. And so, her work unfolds into another modernity, a new modernity.
We could argue that K.Y. paints herself by vanishing. Her gallery of portraits does not pursue a quest of self, but achieves what I have called – with Deleuze in mind – a becoming-painting. Deleuze wrote that the role of the fabulating function (fonction fabulatrice) in literature was not to narrate oneself but to "invent a people to come" [Essays Critical and Clinical, trans. D.W. Smith and M. A. Greco, Minneapolis: University of Minnesota Press, 1997].
Yoshida's Corridor displays K.Y.'s self-portraits. I wish to say that absolutely all the images that it contains are self-portraits by K.Y. We discover K.Y. painted by Botticelli, K.Y. painted by Jean Clouet, Tintoretto or Hans Memling. Each representation should be titled Self-portrait of K.Y. by Manet, Self-portrait of K.Y. by Andy Warhol, Picasso or Malevich – in fact, the Malevichian figure in itself, is already the anonymous figure of a faceless people, a mirrorless, unidentified face. In that sense, we could emit the idea that, if we leave aside for a while the notions of style and identity, My Painting. Self-portrait fulfills the very mystery of the artist named Kimiko Yoshida, who is one and two at the same time.
The question is no longer about identity, about wondering who K.Y. is. The question now would be to ask ourselves: Where is K.Y.? She is everywhere. My Painting. Self-portrait narrates K.Y. as an object of paint, an object of painting, an object of all the history of Painting and at the same time as the lost object of Painting.
In that, I would say that Yoshida's Corridor displays the vast gallery of the people to come.
Gerard Wajcman.
Translation by Esther Segalen.
Catalogue My Paintings, 2013. Unpublished.